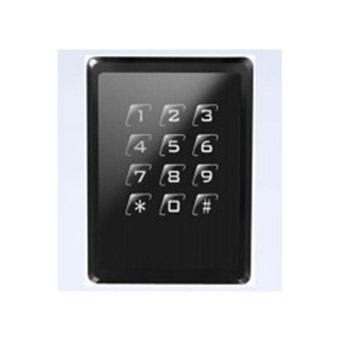 Bluetooth Multi-technologies Reader
VIEW PDF
Phone App has two versions:

❖ iOS® version – Install in Apple phone, which shall require iphone 5s model or up
❖ AndroidTM version – Install in any AndroidTM phone, which shall require version 4.4.4 or above
❖ The phone App need to be initialized before it works with the BT Reader
❖ The communication in between the reader and Apps are authenticated and encrypted with AES128 to ensure the communication is highly secured!Design Background

Show-to-Go: Show the Smartphone in front of the reader as showing a card.
Shake-to-Go: Shake the Smartphone from horizontal to vertical or vice versa (NOT turn the phone!)
Reader supports both Bluetooth and Mifare technologies.
Reader supports "Show-to-Go" in any configured reading mode.
Reader also supports "Shake-to-Go" and "Handsfree" reading mode.
Reader can set to 3 different reading distance modes:

❖ Standard mode: 0.5 to 1m
❖ Mid-Range mode: 3 to 5m
❖ Long-Range mode: 5 to 10m

Directional antenna is used to maximize the read range in front of the reader but minimize the read range at the back of the reader.
Supports Reader Configuration Card to re-configure the read range and/or Mifare reading at site.
Use Customer Code and End User Code with AES128 to encrypt the card data being stored inside the Apps and decrypt by the reader so that other duplicated card number from other site could not be read.
The phone Apps requires to initialize before it can be use on the reader, which allows the customer has full control of the data inside the phone.
The Apps allow the user to tune the reading distance and the sensitivity of the "Shake" with password protected.
The Apps support Manual Activation Button when the app is running on screen.
The Apps show the strength of the Bluetooth signal being detected.
The Apps support to run at the background mode of the phone.
Features
Standard & Mini Reader
Keypad Reader
Reader Specifications
Re-configure Window
5 seconds (Default) or Half an hour after Power up
Reading Technologies
Bluetooth & Mifare
Reader Output Format
Programmed Card number inside App or CSN/UID 32bits, 34bits, 56bits (backward/forward) or programmed ID in the Mifare card
Antenna
Directional
Keypad Output
N/A
Definable
Buzzer Control
Reader & Controller control (Default) or Controller control only
Read Range
Bluetooth is configurable to 1m, 5m or more; Mifare is around 5 cm
Wiring Distance
150m (22 AWG with shielded cable)
Apps Specifications
Operating System
Both iOS & Android
Data Encryption
Customer Code + End User Code + AES128
Show-to-Go
Read distance is adjustable
Shake-to-Go
Phone vibrate when motion is success
Shake Sensitivity
Adjustable
Operating Specification
Operating Voltage
10 – 15VDC
Operating Current
150mA (max)
Operating Temperature
-30°C-70°C
Exterior dimension (Mini)
115.5*84.5*20.5mm (84.05*54.05*16.5mm)
Case material
PC+ABS
Operating Humidity
10% – 90%
Weight (Mini)
210g (160g)
Description
The phone App need to be initialized before it works with the BT Reader