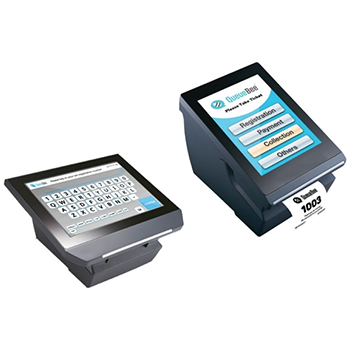 8 & 10-inch LCD Touch Screen Desktop Printer
VIEW PDF
The Unique Features:
Web-based – fully web-based solution, all-in-one dashboard.
Responsive – quick respond to customer's touch for dispensing ticket.
User-friendly – simple & easy touchscreen navigation.
Integrated – mobile queue app ready, API ready for 3rd party integration.
Real-time – instantaneous queue data analysis revealing queueing condition.
Report-Analysis – comprehensive analysis & reporting covering all aspects.
Multi-lingual – multiple languages selection & interface.
Customization – pre-loaded templates allows flexible design & icons selection.
Specification
QB-TSP08
QB-TSP10
Printer
80mm thermal printer with 200 mm/s speed
Paper
Thermal paper 80mm
Processor
Quad Core 1.8Ghz
Memory
1GB Ramm
Disk Space
16GB
Screen Type
LCD Capacitive Touchscreen
Resolution Pixel
1024 (H) x 768 (W)
1280 (W) x 800 (H)
Network
WIFI / RJ45 LAN 100Mbps
Brightness
250cd/m2
Dimension
160mm x 230mm x 180mm
240mm x 235mm x 180mm
Power
Power Adapter 24V 3A
Data Retention
>5 Years
Description
Robust, Elegant & Corporate Design. All-in-One solution with pre-installed QB10 software