Description
Vandal Resistant 4G 4812 Series Digital GSM Panels
With 4G GSM comes freedom. Answer calls from your door or gate from any telephone number including your mobile and from anywhere in the world.
The latest VIDEX digital 4G GSM can call up to 750 apartments each with a divert facility to call up to 3 additional numbers should the first be busy or unanswered (1000 user option is also
available with only 2 programmable numbers per user).
Vandal Resistant panel variants include a large blue backlit graphical LCD display, illuminated numerical keypad with additional apartment search/scroll buttons or alpha keys A-F.
Vandal Resistant Panel
Panels are manufactured from 316 marine grade brushed stainless steel.
2G, 3G and 4G Compatible
All 4G GSM panel versions are compatible with 2G, 3G and 4G networks and designed for global use.
Blue Backlit 128×64 Graphical LCD Display
Graphical DDA compliant call progress indication with integrated voice annunciation and acoustic signals.
Built-in RFID proximity reader
Program key fobs via SMS text messages, PC software or VIDEX GSM mobile Apps to operate the relay
750 or 1000 Users
Panels with 750 programmable user or 1000 programmable user options available.
Up to 32 Temporary Dial to Open Numbers
In addition to the standard dial to opens, store up to 32 temporary dial to open numbers programmable from 1 – 255
hours
4G Digital GSM Key Features
Vandal resistant 316 grade stainless steel panels with onscreen
programming menus.
Graphical call progress, voice annunciation & acoustic signals.
Blue backlit 128×64 pixal graphical display and alpha-numeric keypad.
Micro-USB and RS485 BUS connection for ease of programming
using the GSMSK PC software
Facility to remotely program the digital GSM "over the air".
RS485 BUS can also be used for parallel connection of Art.4850R
proximity reader or Art.4903 keypad.
750 programmable users (each with 4 numbers, 1 primary and 3
diverts), 1000 user option also available.
750 programmable access codes (1 per user), 1000 user option also
available
Automatic time correction feature and daylight saving time
adjustments.
Dial to open facility for up to 3000 stored numbers including feature
to store up to 32 temporary dial to open numbers.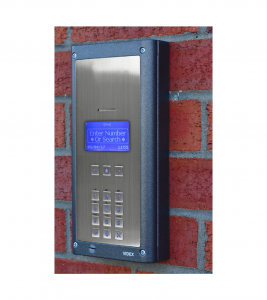 ENIGMA ESP-102AP TCPIP SINGLE DOOR CONTROLLER
Part Code
Series
Description
4812/4G
Digital GSM
Vandal Resistant 4000 series 4G Digital GSM panel
(A-F) requires 4882 (surface) or 4852 (flush) box
4812R/4G
Vandal Resistant 4000 series 4G Digital GSM panel
(search) requires 4882 (surface) or 4852 (flush) box
VR4812/4G
Vandal Resistant 4G Digital GSM panel (A-F)
with flush bezel back box
VR4812R/4G
Vandal Resistant 4G Digital GSM panel (search)
with flush bezel back box
4882
4000 series modular
4000 series 2 module surface back box
4852
4000 series 2 module flush back box
4892
4000 series 2 module surface rainshield
4872
4000 series 2 module flush rainshield
VRDSB140x280
VR Panel Accessories
Stainless steel surface box for VR4812/4G
and VR4812R/4G panels
HDR-15-12
GSM Accessories
Slim line 12Vdc, 1.25A power supply
434
GSM antenna with magnetic base (inc. L bracket)
434/BLOCK
Block GSM antenna (inc. SMA-M connector)
434/HG/5M
High Gain GSM antenna with 5m cable length
434/HG/15M
High Gain GSM antenna with 15m cable length
955/T
Blue VIDEX proximity fob
955/C
0.75mm thick white VIDEX proximity card
GSMSK
GSM PC programming software
PROX-USB
Deskmount proximity reader for programming